About Us
Pho 99 offers a great variety of dishes starting from their rice wrap with shrimp and beef appetizer or the deep fried pork rolls. You can order a traditional beef noodle soup or try one of our many stir-fries! Hours

Open Everyday : 10:00 A.M – 10:00 P.M We've Been Mentioned in an Article "My last stop is Pho 99 on Lebreton Street. Several blocks off the main Somerset drag, Pho 99 draws pho diehards who overlook the restaurant's spartan furnishings to gaze, at times obsessively, into the soul of pho. The dapper and confident owner, Ha Van Trung, tells me that he fled Vietnam in 1982 on a boat, which, after a seven-day journey, reached the Chinese island of Hainan, from whence Ha and his future wife proceeded to Hong Kong. Ha's wife gave birth to their first son in a refugee camp while they awaited resettlement. Canada finally accepted them as refugees, and they arrived in Ottawa in chilly December 1984. They felt lonely at first, not knowing anyone in the city. Ha toiled at a restaurant, then a hotel, before obtaining a chip-wagon in 1987, which he operated for 10 years. After hearing about a Paris food survey that indicated pho was ranked second in the world as a dish, Ha decided to jump into the pho business. He got his own pho shop and hired two pho cooks from Montreal, but after six months without customers, on the verge of bankruptcy, Ha let the cooks go and closed down the shop. He experimented with pho technique intensively, tossing out "numerous pots of pho," then re-opened three months later. The restaurant has been running ever since. Ha says the secret to great pho is control of fire. In his view, pho is a kind of medicine, a panacea for the sick and elderly. He wishes, however, that there were more promotion of pho in Western media and that pho owners worked more closely together. "I'm proud that my pho is delicious," Ha muses. "It will definitely succeed. I'm busy now. I have six sons. I hope that in the future one of my sons will expand the business." One of Ha's sons who works at Pho 99, a strapping dashing young lad, glows with pride when he recounts his father's rise from chip-wagon owner to restaurateur." Read the full story here.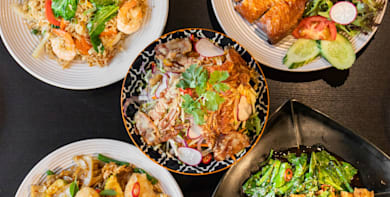 Menu
Contact Us
Find Us
120 Lebreton Street North, Ottawa, ON, Canada, Ottawa, K1R 7H6
Opening Hours
Monday
11:00 AM - 8:00 PM
Tuesday
11:00 AM - 8:00 PM
Wednesday
11:00 AM - 8:00 PM
Thursday
11:00 AM - 8:00 PM
Friday
11:00 AM - 8:00 PM
Saturday
11:00 AM - 8:00 PM
Sunday
11:00 AM - 8:00 PM
Please note, delivery times may vary.
We deliver to
J9A, K0A, K1B, K1C, K1G, K1H, K1J, K1K, K1L, K1M, K1N, K1P, K1R, K1S, K1T, K1V, K1Y, K1Z, K2A, K2B, K2C, K2E, K2G, K2H, K2P, K2R